Are you a teen that loves creating videos?! Then I'm excited to tell you that Selene Castrovilla is sponsoring a Book Trailer Contest for her upcoming YA novel, MELT, organized by JenHalliganPR.
You can see my review for MELT here.
Please help us spread the word... through the link provided below you'll find graphics to share on social media along with a poster that you can print and share at your local library!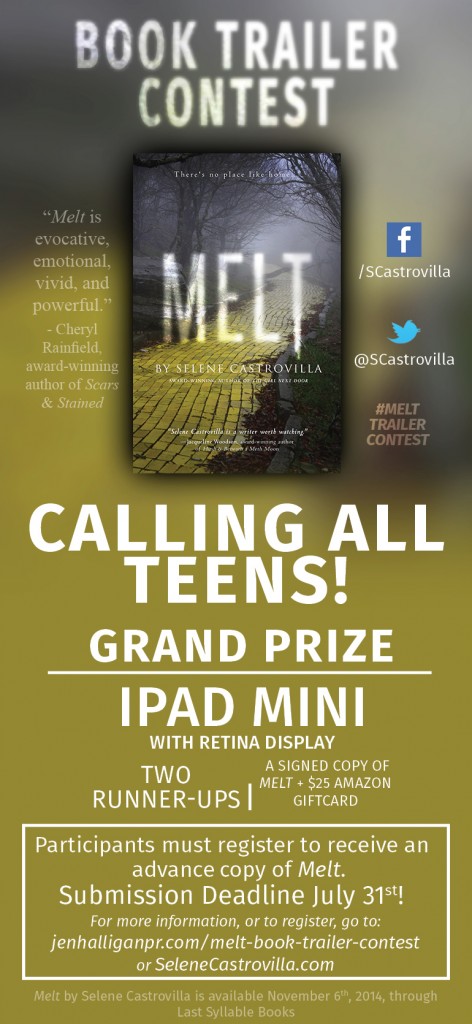 Be sure to check out the announcement Selene Castrovilla posted on her blog, where she shares where the idea came from, and lists some resources for participants. Also, make sure to follow along with the #MeltTrailerContest hashtag, and good luck to everyone that enters!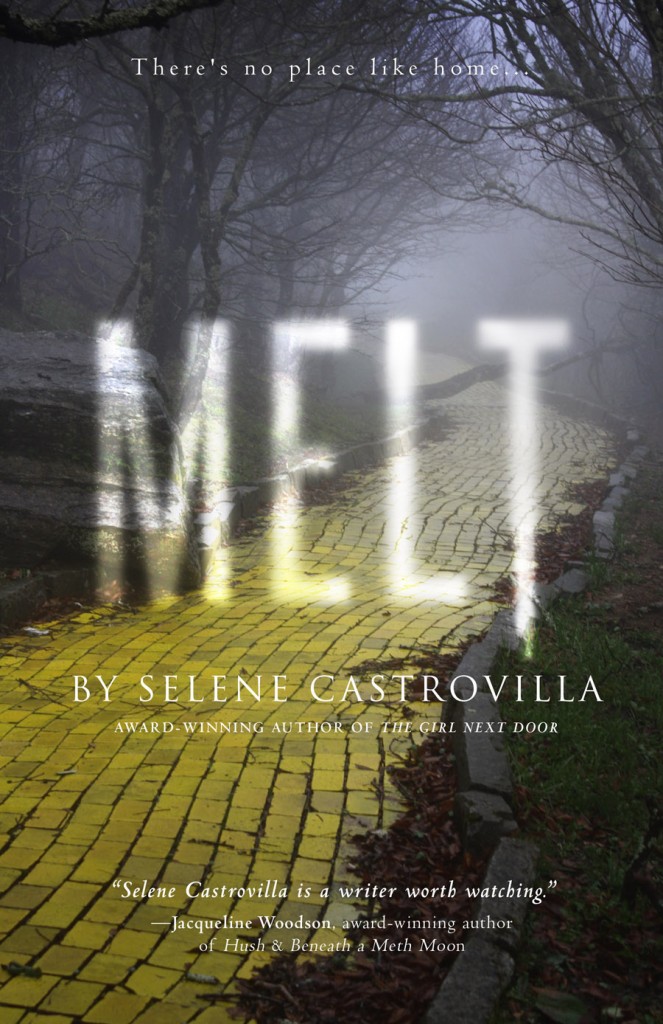 MELT by Selene Castrovilla | Last Syllable Books | November 6, 2014
Melt is a brutal love story, set against the backdrop of The Wizard of Oz. Sixteen year old "good girl" Dorothy just blew into the small town of Highland Park – where the social headquarters is Munchkinland (Dunkin' Donuts.) There, she meets Joey – a "bad boy" who tells no one about the catastrophic domestic violence he witnesses at home. Can these two lovers survive peer pressure, Joey's reputation, and his alcoholism? And then there's his family's secret – about to be unleashed.Told in dual first person, Joey's words are scattered on the page - reflecting his broken state. Dorothy is the voice of reason - until something so shattering happens that she, too, may lose her grip. Can their love endure, or will it melt away? Melt is based on true events. It is both a chilling tale of abuse, and a timeless romance. It will hit you like a punch in the face, and also seep through the cracks in your soul.
About Selene Castrovilla:

Website | Facebook | Twitter | Tumblr | Goodreads
Selene Castrovilla is an award-winning teen and children's author who believes that through all trends, humanity remains at the core of literature. She is the author of Saved By the Music and The Girl Next Door, teen novels originally published by WestSide Books and now available digitally through ASD Publishing. Her third children's book with Calkins Creek Books, Revolutionary Friends, was released in April. She is also a contributing author to UncommonYA. Selene holds an MFA in creative writing from New School University and a BA in English from New York University. She lives on Long Island with her two sons. Visit her website www.SeleneCastrovilla.com for book excerpts and more information!