Robin LaFever's Grace Mercy
(His Fair Assassins, Book 1)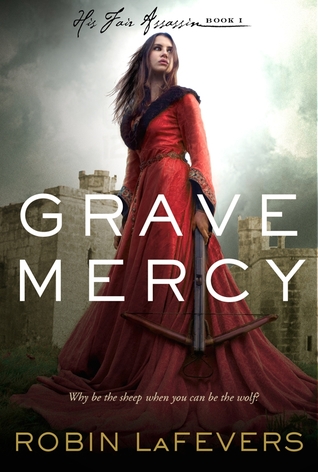 Why be the sheep, when you can be the wolf?
Seventeen-year-old Ismae escapes from the brutality of an arranged marriage into the sanctuary of the convent of St. Mortain, where the sisters still serve the gods of old. Here she learns that the god of Death Himself has blessed her with dangerous gifts—and a violent destiny. If she chooses to stay at the convent, she will be trained as an assassin and serve as a handmaiden to Death. To claim her new life, she must destroy the lives of others.
Ismae's most important assignment takes her straight into the high court of Brittany—where she finds herself woefully under prepared—not only for the deadly games of intrigue and treason, but for the impossible choices she must make. For how can she deliver Death's vengeance upon a target who, against her will, has stolen her heart?
Have you ever looked at a book and thought, "No, this can't be as good as it's cover is?" In the case of this one, utterly not true.
This novel is as enticing, dramatic and passionate as that girl in a red dress and crossbow on the cover is.
The novel is set in a 15th century Brittany, tinged with magic and old religions, similar to some of Guy Gavriel Kay's novels. I found myself pulled into the world so completely that I was amazed to find the concept of St. Mortain was the author's invention!
Grave Mercy features so, so many amazing female characters. Seriously, I don't know if I've read another work this year that had so many great characters; good, evil and morally ambiguous. Main character Ismae's character development throughout the novel is astounding, and the reader is always rooting for her, even when she falters.
There's plenty of intrigue and danger, but as a reader I never felt overwhelmed by it, instead, I was racing to find out what happened next! Plus, an incredible, simmering into explosion sort of romance.
There is some violence and romantic situations, as well as frank discussion of what it's like to be a woman in the Dark Ages, so I'd give it a PG-13 rating.
This series is full of kick-butt ladies getting things done their way, so I don't think there's a better song than this one. I can picture Ismae waging some serious war to this song's driving beat and Xena like vocals.
Santigold featuring Karen O: GO